Skid Steer Loaders
Skid steer loaders are the new generation of small multi-function equipment integrating mechanics, electronics and hydraulics under the independent research and development of HAMAC, with every performance index having reached the international advanced level. The machine features compact structure, flexible movement, convenient operation, efficient working, powerful function and simple maintenance. It is especially applicable to urban infrastructure, roads or construction sites, workshop, warehouse, dock, ship deck, even inside of cabin and other places with narrow space and frequently-changed operational contents. By changing different devices, it realizes the shoveling and carrying, lifting, digging, drilling, crushing, scraping, scarification, snow blowing, deicing, road sweeping, pavement milling, and compaction operation.
We can do:
Shovespanng
Carrying
Lifting
Digging
Drilspanng
Crushing
Scraping
Scarification
Snow blowing
Deicing
Road sweeping
Pavement milspanng
Compaction operation
Shovel cutters
Continuous opener
Wood chopper
Rotary cultivator
Plow cultivator
Multipurpose lawn mower
Earth drill
Breaker
Sealer
Deicing machine
Snow blower
Snow plow
Fork
Lawn paver
Stump grinder
Cement mixer
Skid steer loaders directory
Product Knowledge
Solutions & Cases
WHY CHOOSE OUR skid-steer loaders?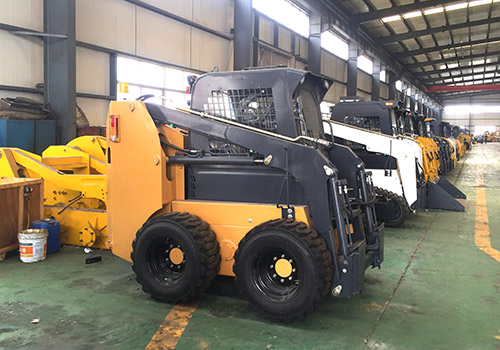 Diesel engines mounted on skid steer loaders drive two hydrostatic pumps and one hydraulic pump. Each hydrostatic pump transmits the oil to a travel motor, one left and one right, and the machine can travel forward, backward or turn. The other pump transmits the oil to cylinders and the pressure moves the correspondent work equipment. Two joysticks, one for traveling and another for the arm/bucket, control all movements. It can load earth into a truck, dig and move landscaping and building materials, clean roads, grind asphalt, clear the road from snow and serve many other purposes.
It is also distinguished by its steering system, in which the machine's movement is controlled by varying the speed and direction of the two sets of wheels on each side independently. This feature is very useful when operating in tight spaces and guarantees high maneuverability.
1.with manual servo system, easily to be operated, higher work efficiency;
2. Simple structure, high cost performance, lower maintain cost, is a classic product in the overseas market;
3.  It is an international popular leveling design, equipped with front tension bar and rear arm to ensure the lifting arm is always vertical no matter up and down.
Skid-Steer Loaders Attachments
Combination Bucket
Pallet Forks
Dozer Blade Grader Leveler
Snow Pusher
Grapple Bucket
Digging Backhoe
Utility Digging Backhoe
Pick Up Broom
Angle Broom
Backhoe Attachment
Hydraulic Breaker
Cold Planer
Trencher
Earth Auger
Vibratory Roller
Bucket
Power Snow Blower
HAMAC Skid steer loader attachments offers an extensive, ever-growing line of high-quality skid steer attachments for construction and farming equipment.
Tags: squeeze concrete pumps for sale pump boom Diesel Concrete Pump concrete trailer pump ajax self loader concrete batch truck concrete batching plant ajax fiori self loading mobile concrete mixer price brick making in India cement mixer truck in Thailand skid steer rubber tracks for sale in india
VIDEO AND WORKING PROCESS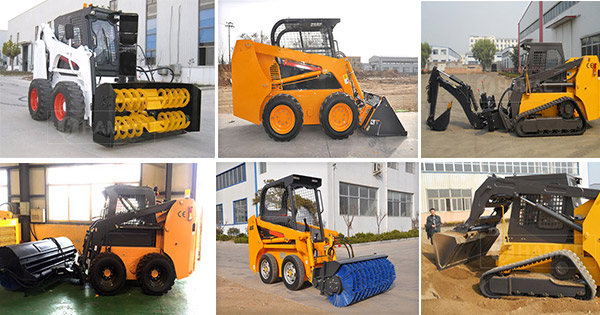 skid steer loaders in Our factory